Traveling can be a nightmare. Arguably one of the worst aspects of traveling is waiting in line to go through security and TSA at an airport. Anyone who has ever suffered through the wait at JFK International can certainly attest to this grueling indignity. New bag scanning technology from Qylur is looking to significantly cut down on the waiting time for this mind-numbing process, adding some much needed speed and personal security for one's items to boot.
The Qylatron Entry Experience Solution could become a savior to the begrudged traveler, eradicating the need for TSA mishandling of one's bags. The device consists of five microwave-sized pods that utilize a combination of chemical sensors, X-ray and a built in artificial intelligence program to scan bags and search for contraband.
Travelers hold their tickets up to a door to begin the scanning process, placing their carry-ons in a vacant pod to have it checked much more quickly and efficiently. If your bag clears, you simply pick it up from the other side of the pod and make your way to your gate, easy breezy. If you're caught trying to smuggle something suspicious, the pod will lock, trapping the person's luggage inside and alerting a human agent to come check out the situation.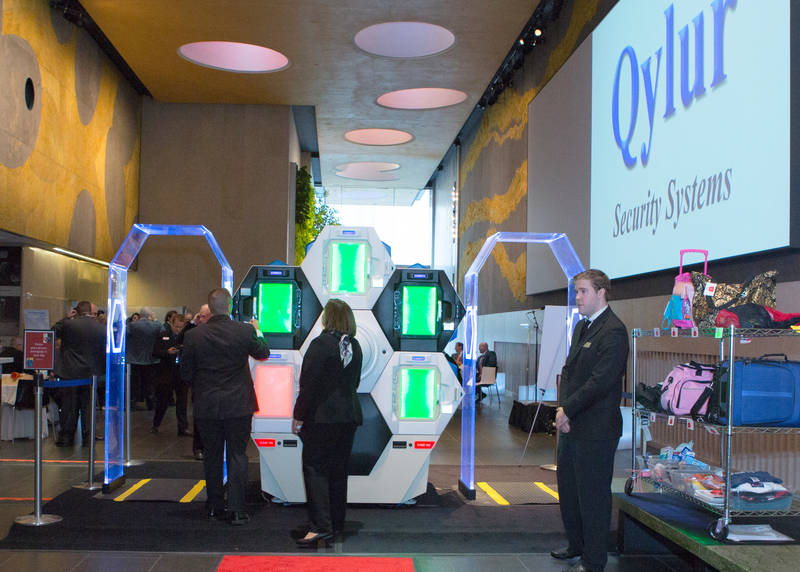 Able to accommodate up to 600 passengers in a mere hour, the Qylatron is, well, a literal and figurative machine, needing only four agents to operate the device. Having already met success in Disneyland Paris and last year's World Cup in Brazil, Qylatron devices are currently being tested and instituted at Levi's Stadium, home of the San Francisco 49ers in Santa Clara, to scan the bags of visitors that attend the stadium's daily tours. Based on the outcome of these tests, the stadium is looking to utilize the Qylatron for security measures on game day.
But truthfully, the Qylatron could be revolutionary in terms of airport security, expediting a laborious, sluggish process that makes both traveler and security agents quite grumpy. The TSA already started testing the device in October, beginning an 18-month trial of Qylatron's technology that, if everything goes swimmingly, could see these scanning stations being placed in airports across the globe. Fingers crossed that the trial period goes off without a hitch, because if there's one thing I never need to do again, it's lug my baggage through a security checkpoint line moving a snail's pace.