Picture this: You're in your mid 20s or early 30s, own at least five portable electronic devices, manage life from a smartphone, don some type of wearable and work for a startup as a developer, programmer, or maybe you write copy or head the sales department for a company that provides services to consumers or other businesses. Oh, and more importantly, this job is in the city, so in an attempt to cut down on the cost of transportation, you've given consideration to scooters, folding bicycles and hoverboards. Welcome to the future of the wayfaring pedestrian, or better yet, meet the urban commuter.
Before we delve into the latest transporters on the market, one question still remains unclear: Where did this growing trend come from? Is it a fallacy of the yuppie/techie lifestyle, or are millennials trying to stand out in a world where "new" can become obsolete in a matter of seconds? Perhaps someone was running late to work and borrowed their sibling's dusty Razor scooter (circa 2000) to avoid missing the train, and it has slowly evolved into something more streamline and adult-like? Either way, someone has to take the blame. Allow me to say just one thing to establish my bias: do you remember Segway's brief debut? Anyone? Aside from campus safety officers, security guards and tourists, no one really has any use for them.
All joking aside, here are some nifty up-and-coming personal transportation devices, because I know deep down you're curious about these things and you've had one of these items saved to your Amazon wish list for the last year. So here goes:
FlyKly's Smart Ped
FlyKly's Smart Ped has been coined "the smartest move around the city," but what does it have to offer? Complete ease, regardless of distance or incline. No one likes getting to their destination all sweaty and out of breath; the Smart Ped eliminates this problem. Originating in New York City, this particular scooter has renovated the rear hub of a bicycle by adding an electronic motor to help propel you forward. There is even Bluetooth connectivity that runs congruent with the BitRide app that provides routes and tracks activity. Lastly, its collapsible for carry-on in public transportation. If interested, be sure to check out their Kickstarter page.
Ninebot Mini
The Ninebot Mini from Beijing's Xiaomi is a self-balancing scooter that can reach 10 mph and cut through inclines easy as pie. This is Xiaomi's first transportation device since acquiring Segway a few months ago, and already they seem like they've nailed the concept. The electric scooter stands out from the rest of the Segway line with a steering handle that is controlled by the knees making it hands free. The Ninebot Mini only costs $314 and is a great addition for the multi-tasker.
Inu
The Inu is a unique take on the whole collapsible scooter concept with a sleek TRON-esque feel. Japanese for dog, Green Ride uses the noun to signify a "faithful companion," because surely you won't travel anywhere without your Inu. This device comes with the whole nine yards: front and rear lights, shock absorbers, horn, alarm, brakes, while automatically collapsing at the touch of a button and reaching speeds up to 25 mph on a single charge. If only life was more like this. Unfortunately, the only thing missing is an affordable price; currently the Inu will run you $3,479.
Hendo 2.0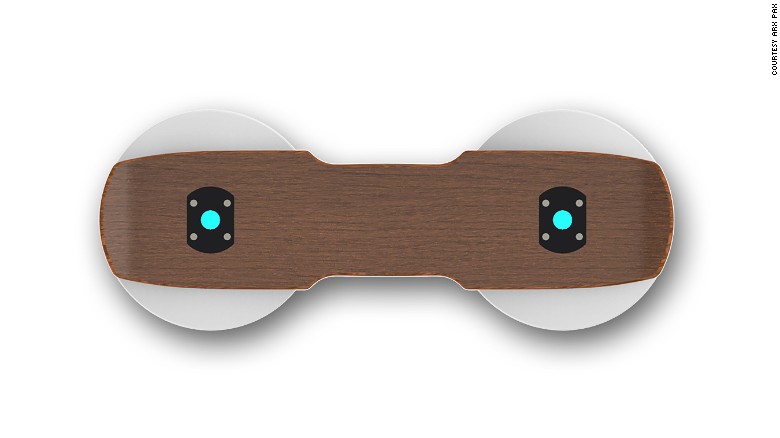 Next up is the Hendo 2.0. Forged in part by skateboard legend Tony Hawk and Los Gatos-based Arx Pax, this fancy toy is the perfect accessory for the futurist. It's a close replica of a real hoverboard, and it utilizes Arx Pax's Magnetic Field Architecture meaning magnetic fields and copper plating make a bunch of swirling energy, creating another magnetic field responsible for motion. However, this is only a flagship and Arx Pax doesn't plan on making any more exceeding the 11 they're selling—oh, and it costs $10,000. Their real push is to change the focus from wearables to moveables as technology continues to explore new frontiers.
Bigler's Hoverboard
If the circumstances surrounding the Hendo bummed you out, think nothing of it because Bigler's Hoverboard is a close second, and is more affordable than Arx Pax's shining star. At $4,000, you can still say you have an "almost hoverboard." Though Bigler's model doesn't levitate, its equipped with gyroscopes, offers the ability to travel uphill and can achieve speeds up to 20 mph. The greatest challenge is getting acquainted to the device as many have confessed it's difficult to use; weighing in at roughly 25 lbs, it's not exactly convenient for daily commutes when you have to lug the device in and out of the office, carry it up flights of stairs, etc. But, it's hoverboardish, and that has to get you cool points somewhere.
Gi Flybike
Even the folding bicycle scene is experiencing some serious upgrades. The Argentine Gi Flybike can fold in one second, and its design is truly something unrivaled. Already, they've well exceeded their goal of $75,000 on Kickstarter, reaching $373,963! The electric Flybike guarantees two things: it's maintenance free thanks to puncture-proof tires and it won't ever leave a grease smudge on your pant leg because of its non-grease drivechain (they call it a belt drive). This lightweight frame will take you to and from your destination with ease and style, and with 40 miles per charge, your options regarding whereabouts are plentiful. At $1,999, it's a fair price when you consider a road bike usually goes for more.
There you have it. Moveables, personal transportation devices, whatever you prefer to call them—they're here to stay. With the cost of living going up, sometimes lifestyle habits have to be tweaked. The price of gas fluctuates every day, cost of public transportation is always teetering on unwanted price hikes and roads are becoming more and more congested which has left people desperate to find ways around these dilemmas. Until we become like Hong Kong or the UK, banning segways and hoverboards, ride free my friends. Ride free in whichever new contraption your heart desires.