Standing up to the establishment these days can get quite precarious to say the least. But our freedoms of speech and assembly should not be badgered away from us because of the advanced surveillance technology and tactics both local and federal law enforcement agencies are employing to keep a too watchful eye out on members of society performing their Constitutional right to protest. That's why two designers from NYU's Interactive Telecommunications Program, Xuedi Chen and Pedro Oliveira, have teamed together to create a line of anti-surveillance gadgets and wearables that also double as bold fashion pieces and accessories.
Hoping to even the odds between the devices and technology law enforcement officers use and what civilians are armed and equipped with, the designers created the Backslash kit to help aid activists and protesters. Equipped with devices to ensure the safety of protesters and keep them connected during riots and demonstrations, the Backlash kit boasts some chic wearable options including a pendant that blocks radio signals to deter cell phone surveillance and a black-and-white bandanna that resembles a keffiyeh with a digital print like a QR code that can store messages within the pattern and be scanned, read and accessed in the Backslash app.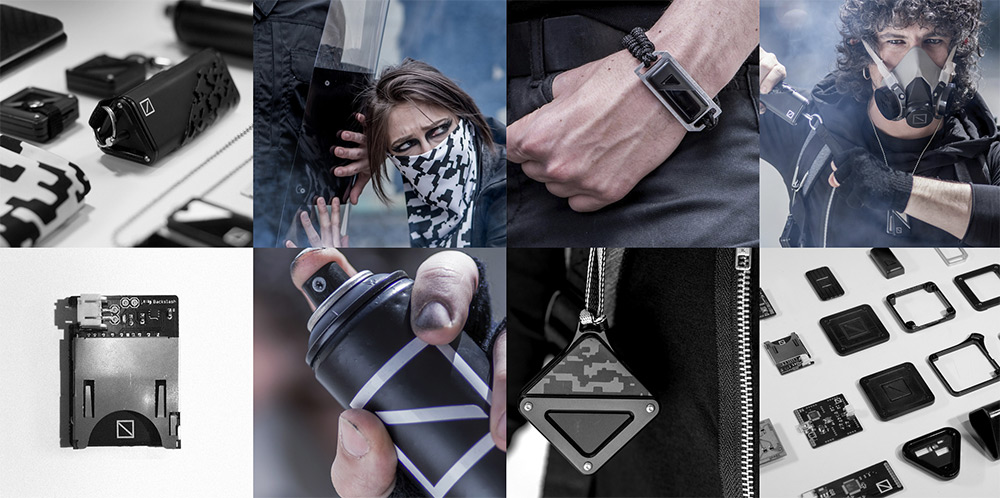 "There is a huge disparity between the amount of technologies used by the authorities and the technologies available to protesters and activists during protests and riots," noted Chen and Oliveira. "That gap is only getting wider." From the riots in Ferguson to Black Lives Matter protests to Occupy Wall Street, law enforcement agencies have significantly upped their game when it comes to monitoring and arguably infringing upon the civil liberties of protesters. Everything form Long-Range Acoustic Device sound weapons to aerial drones flying over protests equipped with high-res cameras have been deployed during protests and riots worldwide in recent years. In New York City, the NYPD has a fleet of unmarked vans equipped with advanced X-rays that can see through walls and clothing.
Chen and Oliveira presented the Backslash kit at the Radical Networks conference in Brooklyn to a welcome reception. Beyond just the fashionable wearables, the kits include other devices and gadgets like a portable router that can create an improvised communication network in the event of an Internet shutdown. Beyond just protecting yourself and identity while keeping your style and swag in tact, Backslash hopes to keep protesters connected to ensure safety in numbers.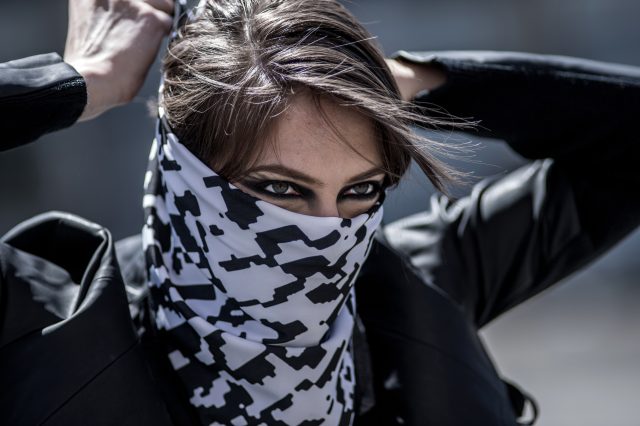 Deriving inspiration specifically from his experiences in Brazil's "Vinegar Revolt," where police engaged in bottlenecking, a process involving officers forming a blockade to funnel protesters into constrained areas away from cameras where many were arrested and beaten, Chen hopes to give protesters a fighting chance against the unscrupulous tactics of many officers during protests. One gadget in particular was created to combat bottlenecking: the "panic button" bracelet, a wearable equipped with a button that causes other bracelets in the vicinity to vibrate and flash, warning other protesters they may be approaching a dangerous area.
Aesthetically speaking, the designers went for a bold twist on the classic military style, with gadgets and accessories giving off a chic, futuristic vibe while still looking like a common gadget or device an every day person might carry or wear. "That's where the design comes in," said Chen, who designed the devices' sleek 3D-printed mesh. "You can camouflage with design." The appearance of the Backslash kit is meant to be stark and provocative, while applicable to every day situations. Armed with this kit, protesting for causes one vehemently believes in may become both easier and safer.