This ain't your grandma's haunted house. You won't find hayrides, pumpkin patches or creepy ghouls and scarecrows lurking around the corners of a corn maze. Rather, new media artist Ian Brill tossed aside those seasonal, autumnal themes in favor of creating a truly terrifying Halloween experience that preys on the fears of those who dare enter. The audio-visual maze is called Labyrinth, and you better empty your bladder before choosing to step inside.
Brill's life size sculpture was constructed by hand from more than 2,000 luminous plastic blocks and programmable LED lights. Standing at 9.5 feet tall and encompassing 900 square feet, Labyrinth is housed in Pittsburgh's Lawrenceville Spirit Hall and is open to those who welcome a good fright through Halloween. The goal of Labyrinth is to warp our technologically driven society into a stark and downright scary experience by playing with illusion, transformation and fear, promising an altered sense of perception and heightened state of awareness.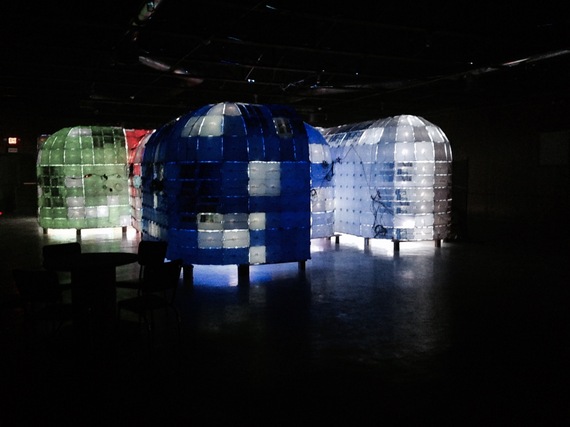 The brave souls who enter Labyrinth's twisty terror are bombarded by rapidly changing light fixtures that flash red, blue and green in a pixelated pattern that keeps Labyrinth's corners cloaked in darkness while disorienting those inside. In attempt to comment on how our tech dependence has led to a pervasive isolation among man, Labyrinth at once embodies a harrowing and hypnotic EDM concert with music blasting, lights flashing and people dancing, and then flips on a dime into nothing by dark silence, creating an unsettling, vacant abyss. The sense of abandonment and loneliness cuts through even deeper following the rave like environment Labyrinth displays and then abruptly cuts off.
Brill tells Huffington Post that the inspiration behind Labyrinth came from his time growing up in New York's brazen East Village. "It was a jumbled, frenetic, unrelatable experience," he said. "Fear of leaving my home, anxiety in general and technology were intrinsically entwined into some sort of neurosis."
This teched out maze is a collaboration between Brill and a seasoned team of professional programmers, who created a structure that eschews the typical frights and scare tactics of Halloween in lieu of something much more relatable and innate – the fear of isolation and how we cope with loneliness. Those are some deep-rooted anxieties that your typical ghost costume or bloody chainsaw simply can't evoke, making Labyrinth a truly unique Halloween experience.