Having a modestly-sized home or apartment can start to feel a little suffocating at times, but these spaces tend to be the price most pay to live in a big city. Just because your abode isn't sprawling doesn't mean there aren't ways to make it more vibrant and lively. One of the best ways to do that is with audio. In order to set the mood and distract you from the fact that your kitchen might be the size of a shoebox, you'll want a quality home audio speaker and device to transport you to another world. Below are some of the best home audio speakers that will liven up your small space, all of which are available to rent for a trial period at Lumoid.
PLAY:1's custom-designed 3.5" mid-woofer and tweeter, each with a dedicated amplifier, deliver rich, powerful sound with crystal clear highs and deep, rolling lows for pitch-perfect HiFi music. Two Class-D digital amplifiers are perfectly tuned to match the speakers and acoustic architecture while one tweeter creates a crisp and accurate high-frequency response. The mid-woofer ensures the faithful reproduction of midrange frequencies crucial for accurate playback of vocals and instruments, while also delivering a deep, rich bass. Spice up your décor and feng shui by turning two PLAY:1s into separate left and right channel speakers to create wider, bigger and deeper sound.
Wren has made a great looking and great sounding speaker that can connect over AirPlay, dts Play-Fi and Bluetooth. Ideal for a single room, the V5-US has high quality sound from a real wood finished cabinet. It makes beautiful music with two 3-inch throw drivers with 4-layer voice coils to handle big power while dissipating heat. High frequencies are rendered silky and natural by a pair of edge-driven, wide dispersion 19mm soft dome tweeters optimally positioned on the front baffle to create a wide, realistic soundstage that rides high and free above the box. The speaker's grille incorporates a diamond matrix that creates more open space so sound is not restricted, making for a truly attractive speaker.
The Stanmore is a compact active stereo speaker that yields clean and precise sound even at high levels. Stanmore's classic design is a throwback to the golden days of rock 'n roll, and its analogue interaction knobs give you custom control of your music. The Stanmore features a classic Marshall design, with a vintage-looking front fret, gold-colored metal details and that iconic script logo. Use your Bluetooth-enabled smartphone, tablet or computer to stream music directly to your Stanmore with no wires attached. This speaker is a modern take on the classic telephone guitar cord cable, and provides the same level of booming sound.
This Bluetooth speaker delivers a natural sound with a more full, deep bass than what you would expect from something this size. Even though it can fit in the palm of your hand, it still delivers powerful sound so you can enjoy your music, games or videos any time. SoundLink Mini can connect with two devices simultaneously, respond to voice commands for easy installation and pairing and possesses proprietary technology and innovative drivers to deliver full range sound. Best of all, it's charging cradle home base will look great in your home.

Great quality sound in a compact and classy design. This 2.1 channel speaker with unique S-Master digital processing restores, optimizes and refines audio signals to be as crisp as their original source. The compact X5 wireless speaker delivers rich sound, letting you easily stream and enjoy your music from a smartphone or tablet.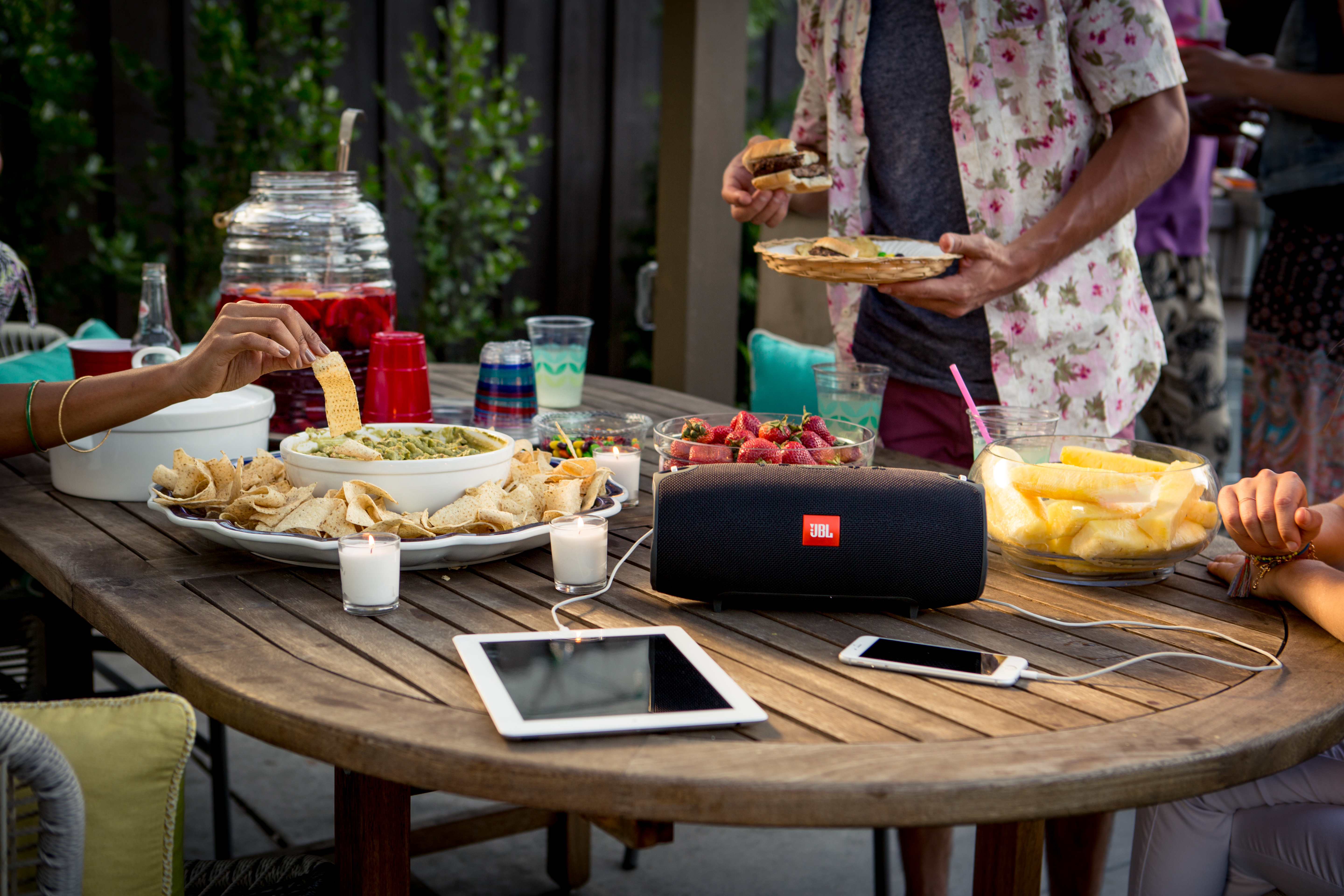 Four active transducers and two visible bass radiators are packed with a massive, rechargeable battery that allows for up to 15 hours of play time. With dual USB charge out, this speaker will keep your devices going and let you enjoy a powerful stereo all day. Bluetooth connectivity allows you to wirelessly stream music through any Bluetooth enabled device, while passive radiators field enough bass for you to actually see them trembling from the outside. This speaker will get your pad booming in no time!