Love him or hate him, Canadian rapper Drake has been the subject of much talk lately thanks to his hit viral video for "Hotline Bling" and the memes it has created. Drake, however, is no stranger to being turned into a meme. From ones making fun of his time on Degrassi, to his coining of the acronym "YOLO" (You Only Live Once), the "Drake The Type" or "All These X" crazes, parodies of the cover of his 2015 mixtape If You're Reading This It's Too Late, to his feud with fellow rapper Meek Mill, Drake is, according to several Twitter users (and perhaps all of social media for that matter), a "living meme."
The video for "Hotline Bling" has only solidified Drake as prime meme fodder, with creations showing Drake's dancing in the video dubbed to different songs, or various celebrities dancing to "Hotline Bling." Some variations include a Vine of 2016 presidential candidate Bernie Sanders, a Cosby Show parody and Carlton Banks from the hit 90s TV show The Fresh Prince of Bel-Air. Drake's popularity has had peaks and valleys according to Google Trends, but he is especially popular in the Caribbean, South Africa, and of course, the United States (Drake's home country, Canada, is only sixth in terms of regional interest).
The artist himself described the song as inspired by Jamaican culture. "You know, like in Jamaica, you'll have a riddim and it's like, everyone has to do a song on that," he said. "Imagine that in rap, or imagine that in R&B. Imagine if we got one beat and every single person—me, this guy, this guy, all these guys—had to do a song on that one beat. So sometimes I'll pick a beat that's a bit, like, sunnier, I guess is the word you used, than usual, and I just try my hand at it. And that's kind of what "Hotline Bling" was. And I loved it. It's cool. I've been excited by that sort of creative process."
Video editors and GIF creators have managed to work in Drake's awkward dance—which has been described as a "squat/hobble with some decorative arm-swats and a healthy dash of cha-cha" into various activities as well, such as him stomping spiders, playing Wii Tennis and being a Jedi from Star Wars.
Despite all the fun people are having with the meme, there have been a few serious discussions regarding Drake's status as a living meme. "Drake cannot be serious with those dance moves," said Polygon reporter Allegra Frank. "To take it and apply the paint of entertainment's biggest interactive component with the burgeoning and similarly huge social media landscape makes so much sense to me," she continued. "So what do you think of that, that this meme is in some sense revealing that gamers and hip-hop fans might be more closely aligned and have more in common than one might have previously thought? I mean, does Drake play games?" she asks. Drake is known to be a big FIFA fan, appearing in commercials for FIFA 12 and FIFA 14.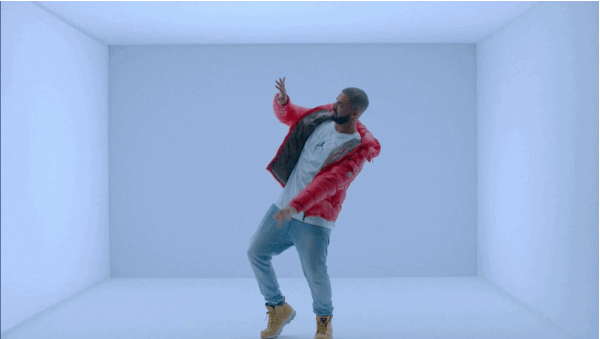 Why is Drake so appealing to so many walks of life? "The idea that you could only belong to one collective subculture (i.e, gaming, hip-hop, etc.) is dying off as those various subcultures begin to merge. Pop culture is just culture and this is a perfect example. Ten years ago, this wouldn't have been covered to the extent it is now because the audience simply wouldn't have existed for it. Now, however, the audience is everyone and its relevant to quite a few people's interests," said Polygon reporter Julia Alexander, saying Drake isn't just a meme for people who like hip-hop, but rather, a meme for everyone.
Memes come and go quickly, but Drake seems to have staying power at whatever he does. Whether it be photos of himself or his music videos, more often than not, Drake ends up as the latest social media meme. The effect of Drake's influence on social media is also helping him on the music charts – "Hotline Bling" has peaked at #2 on the Billboard Hot 100, being kept in the runner-up place by The Weeknd's "The Hills" and Adele's return with "Hello." Still, the power of the Internet and the appetite for the latest Drake-themed memes could see "Hotline Bling" blaze past this tough competition in the upcoming weeks. And if not, Drake shouldn't worry about coming in second on the charts – the legacy and hit status of "Hotline Bling" has been cemented by the most talked about music video in quite sometime.