Coming to a TV screen near you, it's virtual reality! That's right, no longer will you have to be content with living out actual reality in the comfort of your own home because Discovery Channel has just recently launched Discovery VR, its very own virtual reality platform.
"Discovery Communications has long innovated by bringing together emerging technologies with a keen focus on quality content and storytelling, and Discovery VR is a natural and powerful extension of our commitment to aggressively pursuing new horizons," said Conal Byrne, senior vice president of digital media for Discovery Communications, in a press release. "Virtual reality has the power to immerse fans in the action, and we look forward to telling stories in this new space like never before."
So just what all can viewers hope to find on Discovery VR? Well, some of the biggest and brightest stars of its parent channel, along with contributions from Discovery Digital Networks and the Science Channel. The gang behind the network's popular "Mythbusters" series has created three unique virtual experiences for the platform, all centered on the network's much ballyhooed and perplexingly popular Shark Week. Those crushers of fables created virtual reality content documenting the feeding of sharks in the Bahamas and an expedition short exploring famous shipwrecks.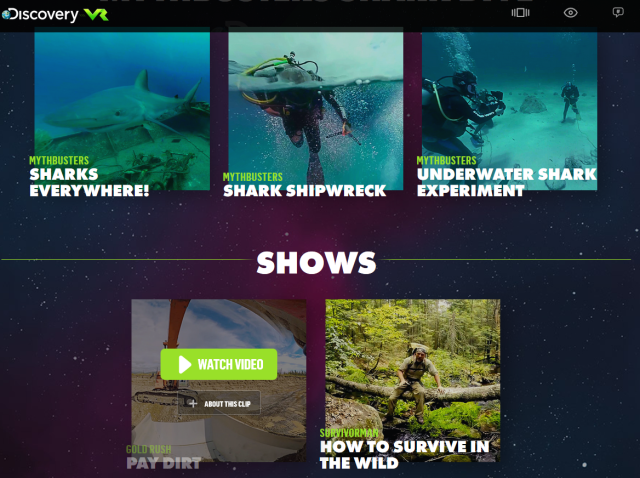 Other features available to explore and immerse oneself with on Discovery VR include a Discovery Planet look at the skyscraping heights of the Redwood Forests in California, a look at the Bay Area's popular vacation destination Half Moon Bay, an Adventure session showing what it would be like to foolishly freeboard down San Francisco's dauntingly twisty Lombard Street, Survivorman Les Stroud embarking on an off-the-trail expedition, a virtual version of Discovery's popular "Gold Rush" series and virtual surfing lessons from pro surfer Kyle Thiermann.
Powered by Littlstar, Discovery VR's apps and website can be accessed through Discovery VR's own website, its iOS and Android apps and the network's YouTube channels. Discovery VR promises viewers that it will take and immerse them in new and never before seen environments and worlds, all from inside their own homes. Not a bad elevator pitch for a virtual reality platform that doesn't involve the donning of some stupid helmet or eyewear. You can check out all nine of Discovery VR's special features and programming now, and be on the lookout for new virtual content coming soon to a dull reality near you.