For the artistically challenged, the prospect of even drawing a believable stick figure can be quite a daunting task. I might, perhaps, be projecting my complete and utter lack of artistic capability onto others, but the point is, most people simply can't create art to save their lives. But now, hope is on the horizon for those of us that flunked out of Art 101 because our macaroni art just wasn't up to snuff. A new web and mobile app called WordsEye can turn our typed out words into 3D animations right before our very eyes.
WordsEye was developed for the everyday person who may not be equipped to create nifty, fun 3D animations like those mad wizards over at Pixar. The app takes written text and transforms our wildest thoughts that we dare type out into 3D images at the drop of a hat thanks to the technology and coding that power it. By using speech tagging software, WordsEye can analyze the context of text that is typed into it while statistical parsing is employed to change written sentences into a language and format a computer can understand in order to create 3D images from the whimsical musings that flow from our fingertips.
In essence, anyone who can think or imagine it and has the ability to type it out in WordsEye can become a 3D graphic artist. It's a writer's dream come true, for sure, allowing them to bring to life a 3D representation of the scenes or stories they come up with without having to be a skilled storyboard artist. And forget boring memes or gifs – with WordsEye, you have the ability to create original, animated scenes and imagery by just typing your ideas into a program. Sharing is encouraged too, as everything created using WordsEye can be saved in the app's gallery and posted onto social media.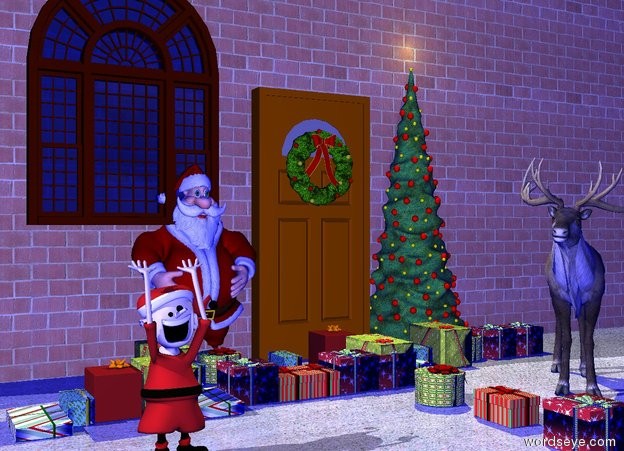 Not exclusive to just fun and games, WordsEye could have professional and educational applications as well. Imagine being able to create a 3D presentation using WordsEye – it certainly beats out a dry, boring PowerPoint. As for educational purposes, WordsEye could greatly assist in the teaching of language, literacy and linguistics. "Enabling a new form of creative expression is our primary thrust, but we see strong applications in education, mobile messaging, VR, and gaming," said Gary Zamchicks, CEO of WordsEye.
For the app to truly be functional, it also requires a little bit of input from its users. Being able to create 3D images from any word typed means WordsEye has to house a vast and expansive archive of words and objects throughout various languages. Luckily, this is where users come in; everyone has the ability to upload suggestions that will broaden the scope and ability of what WordsEye can understand and create.
Currently, the program is in beta testing, but can still be accessed on their website for those itching to type out a 3D epic. The full-blown web application will be released shortly, followed by an app for both Android and iOS. Be on the lookout, and get ready to give those Disney animators a run for their money!