The old saying "dying is easy, comedy is hard" rings surprisingly true for dating as well, particularly as technology is rapidly changing the way we interact and communicate with one another. According to research conducted by Pew, one-in-five adults aged 25-34 have used online dating at one point, and with nearly 90% of Americans online, that figure is rapidly growing.
Sentiments around online dating have also changed dramatically – what once seemed like a desperate and hopeless attempt at putting oneself out there has become a go-to avenue for many singles, with 60% of Americans saying online dating is a good way to meet people. Now, just because a majority of Americans support something, doesn't mean it's necessarily effective, or do I need to remind you of the 2000 and 2004 presidential elections?
A third of the people who claimed to partake in cyber dating have admitted to never actually going on a single date, which is like me saying I use Pinterest for recipe ideas, but I've never actually made a meal (which is 100% true). With so many people using online dating, the success rate is rather disappointing – only 5% of Americans who are married or in a committed relationship say they met their significant other online.
Bottom line: people are dating online, but it's not really sticking. As with any industry, you've got your mack daddy's that get all the attention and users. Match, OKCupid and Tinder are some of the online dating juggernauts, and more than likely, you've flirted with them at one point or another, but decided they were only appropriate for a fling. For those of you burned out on those, I offer below some alternative, niche dating apps with fun concepts to try out. Give cyber love a second chance.
This app is from sister entrepreneurs Arum, Dawoon and Soo Kang, who presented the dating service idea on "Shark Tank" and outright rejected Mark Cuban's $30 million offer – the largest in the show's history.
Coffee Meets Bagel uses Facebook information of a user to recommend matches based on friends of friends on the social media platform, making this dating experience not as blind as it could be. Each day at noon, you are presented with a bagel, or match. You have 24 hours to like or pass on them. If your bagel likes you back, you will be taken to a private chat room where you can connect.
Essentially, Coffee Meets Bagel is the anti-Tinder, allowing you only one potential match a day. It's also more a security blanket in the sense that the people you match with will have connections to friends of yours. With more women than men users, this app is ideal for a slow burn, patient selection for, hopefully, an ideal match.
Clover dives in head first by filtering your dating intentions. More often, people tend to be on different wavelengths about the kind of relationship they want. With Clover, you indicate your intentions from casual to serious and are matched with people who share that with you.
An on-demand dating feature built within the app allows you to instantly find dates with other users, great for the spontaneous dater who gets bored and uninterested with prolonged, benign chatting. With a fun, built-in 20 questions game and features that allow you to see who likes you and keep track of who it is you like, Clover is definitely designed to appeal to the millennial mentality.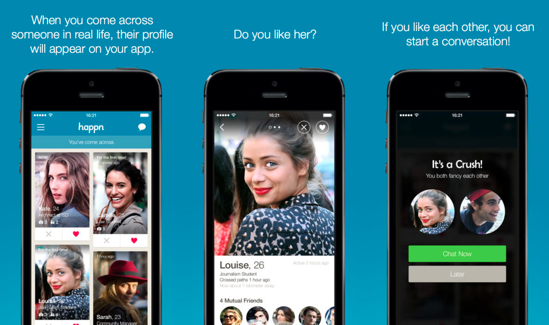 A mobile version of Craigslist's popular, oft-joked about Missed Connections forum, Happn helps you discover people you've crossed paths with and who you'd very much like to see again. Using geographic and locational services, Happn will show the profiles of people you cross paths with or occupy the same area with multiple times on your homepage. It also allows you to see how many times you've crossed paths, as well as the time and place of your last "encounter."
It's a smart idea in today's rapidly moving world to focus in on the people who happen to be around where you work, play or live as potential matches. This app is very much the opposite of long-distance, which, we all know how those relationships work out. Happn allows you to secretly like a user you cross paths with, and unless they mutually like you back, they won't have a clue. When you do match, you develop a Crush. From there, you can get noticed by sending a Charm. After that, it's up to you whether you want to say hello as you both board the same subway train to get home.
For those of you that are visual natured, LOVOO is the app for you. Essentially, it's Instagram meets Tinder. A live radar shows what's happening around you and which users are close. LOVOO encourages sharing like everyone's famous filtered photo social media platform, so sharing pictures and moments of things you're doing or have just done is integral to the experience.
Each picture or moment you shared is accompanied with a hashtag that allows other users interested in whatever shenanigans you were up to or like to do search that hashtag and find your picture. You can like and share other users' photos and follow those that spark your interest. There's also a built-in Match Game that helps you discover people to chat with. It's Snapchat for randos, so if you want to share your pictures with the world at large and try to score a date out of it, the go get your LOVOO on.
It's easy to get bogged down in back-and-forth chatting on many dating apps. Someone gets busy, they don't respond for a while, and you lose interest. HowAboutWe is an app ready to nip that annoying habit in the bud.
Once you sign up, you're prompted to post your favorite or ideal date idea in the "How about we…" section. From there, you can check out dates and profiles of other users in your area to find people that like doing what you like doing. Once you've found a match, connect with that user and get that date on your calendar. Much more instantaneous than other dating apps, HowAboutWe pushes users straight into the deep end of virtual dating pool with the outright presentation of dating ideas.
If that's not fast enough, the TONIGHT feature sets you up in under five minutes for a date that same evening. If you're looking for a date right this moment, bite the bullet and download HowAboutWe, because their mission is to get you out.
This one is more of date sustaining app than a date finding app. But hey, while getting a date may seem daunting, pretty much anyone can get at least one. Multiple dates and sustaining the momentum comes with its own set of challenges as well, and that's where Avocado comes in.
Avocado is a private, secure app for couples, daters and married people to stay connected. You can send messages and chat privately through this app with your significant other, allowing you to share all your messages and photos with that one person in a private place. To help facilitate those pesky to schedule date nights, Avocado allows you to share your calendar and any lists with your partner so they always know what's up.
In territory that skirts a little too close to vomit-inducing, you can also send virtual hugs and kisses through the app. Hug your phone close to your chest to send a hug or tap a photo to send a kiss. And for the crazed jealous streak within us all, Avocado notifies you when your significant other's battery is dying so you won't rack your brain about why they haven't responded to you and go all "Fatal Attraction" on them.