The goal of any great statement piece is to get people talking and to get eyeballs staring. The goal of any wearable is to provide some sort of functionality to your everyday life while being a gadget on your person that performs its purpose. The goal of any audio gear is to deliver top-notch, quality sound that will heighten the experience. The goal of Helix Cuff, a wearable audio smart bracelet, is all of the above, and so much more.
Created by Ashley Chloe, Helix Cuff is a chic, stylish bracelet that offers a much needed fashion injection into the world of wearables. As a wearable smart device, the Helix Cuff delivers the crisp sound and expected functionality of a pair of wireless headphones, but adorned snugly on your wrist rather than around your head or ears. Bluetooth compatibility allows the earphones nestled inside of the Helix Cuff to connect to any of your devices in order to playback music or other audio, while noise reduction technology helps Helix Cuff pump out some truly high quality audio.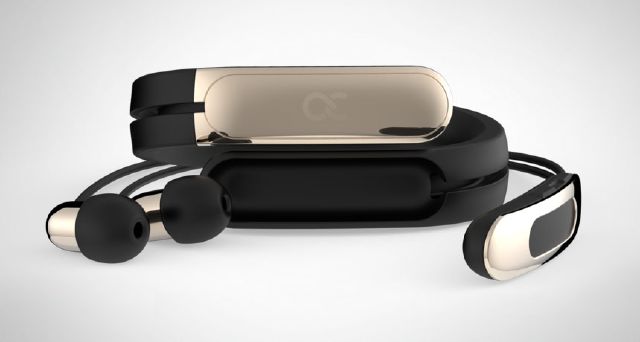 Bridging the worlds of fashion, wearables and audio, Helix Cuff does away with tangled wires that plague so many audio devices while providing undeniable style as a wearable accessory. Even better, Helix Cuff's in-ear headphones are compatible with other wearable devices and allow for simultaneous connectivity to two different devices at once, with seamless toggling between the two. When you're done rocking out with the headphones, the connecting cord wraps tightly and fits perfectly into the groove of the cuff so that no one knows the dirty little secret of your amazing looking bracelet.
Helix Cuff was designed as a one-size-fits-all wearable – a neodymium magnet connects the sides of the cuff to adjust to any wrist size. The cuff itself is made from hypoallergenic materials, perfect for any skin type. And yes, there are plenty of colors and designs to choose from, including black and white, champagne gold, silver and all-black cuffs. There's even a Gold Edition, which is outfitted with a 24K plate of gold. The Helix Cuff starts retailing at an affordable $199, making it easy to add a little more functionality and a lot more glamour to your everyday look.