Ever since Instagram announced a couple months back that it would start featuring advertisements from brands that use the platform, along with instant shop and buy now buttons, the social media titan has become a must-have marketing tool for many brands. With more than 300 million active monthly users and arguably the strongest social media platform in terms of visuals, brands would be downright dumb not to utilize the platform to advertise, market and expand their audience and customer base on the filtered platform.
And yes, while one can snap photos and video, crop, edit, filter, tag, hashtag and caption them all within the Instagram app itself, that still isn't quite enough to bolster a brand above other savvy and more in-tune competitors. At the end of the day, Instagram works better comparatively with extra tools to aid it, rather than as a one stop shop branding behemoth – because, let's face it, the Valencia filter can only be used so many times, and why the hell would anyone ever use Nashville? Below are 6 tools that will help brands take their Instagram game from drab to fab.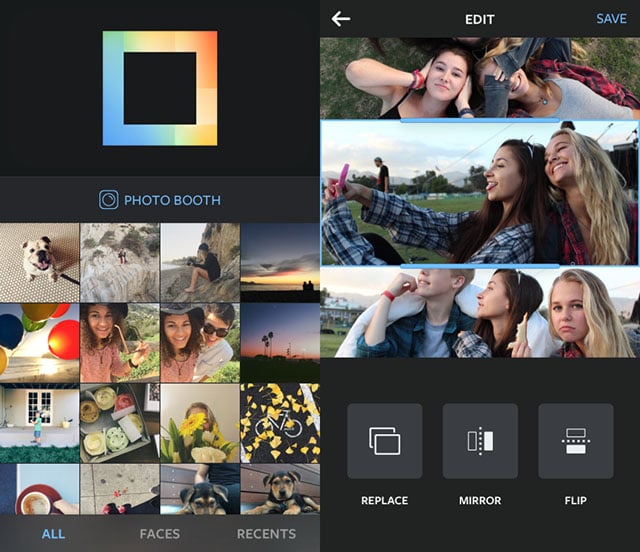 Picture collages have become such a staple post on Instagram that the platform decided to fight back against those third parties apps like Picstitch to create their own app with the sole purpose of consolidating blurry concert photos from Coachella into one post.
Layout for Instagram has a multitude of custom layouts for picture collages, along with border colors and the option to change the number of photos you can place into the collage. The Faces feature pulls up all the photos in your camera roll of people, making it easier for brands to show off happy or satisfied customers, or advertising photos with beautiful models hawking whatever lifestyle sandal they sell. Within the collages, users can zoom in or out on photos, crop, drag and drop them into the selected spaces in order to rearrange them with ease and even flip or rotate photos to create trippy funhouse mirror effects, if that's what a particular brand is into.
Don't be beholden to the in-house filters of Instagram, especially if most of those obnoxiously retro and hipster filters aren't in style with your brand. Instead, try out VSCO Cam, a photo-editing app that comes with a variety of different, bold and more realistic looking filters to choose from.
VSCO Cam's filters focus on creating contrast and sharpness, giving photos a more professional and striking veneer rather than like something you might find on Instagram that looks like a shoddy attempt at a Wes Anderson still photograph. With 10 free filters and many more to purchase at a low price, VSCO Cam is a perfect alternative for those unsatisfied with Instagram's current filter options. VSCO Cam also enables users to edit their photos for contrast, shadow, brightness, exposure, color temperature and much more, with an easy sharing option that allows users to quickly upload an edited photo from the app to Instagram.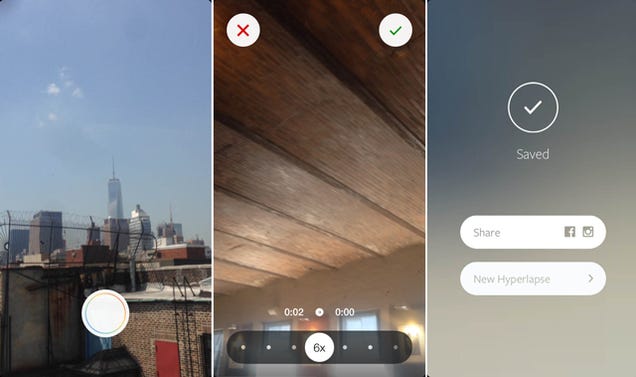 Don't worry, I haven't forgotten about all those brands out there that go the extra mile to film mini video advertisements on Instagram. While Instagram's 15-second video length might seem a bit limiting to some, it's helping make those 15 seconds count by launching the standalone Hyperlapse app, which creates smooth, high-res time-lapses.
Not sure what a time-lapse is? Think of Madonna's "Ray of Light" video. Hyperlapse will help users create a video at warp speed that seamlessly condenses tons of footage into one brief, quick and visually striking video that meets Instagram's time limits. Options are boundless as brands can quite literally show off in 15 seconds the conception, planning, creation, filming and behind-the-scenes of a product advertisement using Hyperlapse, all in a mere 15 seconds, or as the queen of pop might say, quicker than a ray of light.
For most brands, it's important to interact with and engage with their audience. While sending a heart to a photo is a quick way of going about that, sometimes a brand might want to take the extra step, and that's where Repost comes in. Taking a page out of Twitter's handbook, Repost is essentially Instagram's version of a retweet, allowing users to repost a photo to their own feeds while crediting the original poster.
Downloading the app and syncing it to your own Instagram account to find user generated content that matches your brand, Repost is the easiest way to regram a photo and show customers that the relationship you've established isn't merely one-sided. All regrammed photos appear through the app with the #repost hashtag, and users can tailor the caption of regrammed photos through the app to add their own creative flair.
In what undoubtedly excited social media managers everywhere, Hootsuite recently added Instagram to its dashboard of manageable social media platforms. Now, brands with Hootsuite accounts can schedule, post, monitor and edit Instagram photos directly through their Hootsuite dashboard. The scheduling feature is a huge boon for brands that want to upload a bunch of completed content and have it go out at carefully curated times.
Brands can simply queue up photos they want posted to their Instagram account through Hootsuite and schedule a time and day for the photos to be posted. From there, Hootsuite will link to Instagram and send a notification through the app for the selected scheduled time so that users can already have the photo and caption ready to go for a seamless migration over to Instagram. Never will an intern forget or hustle to get content up on Instagram again with Hootsuite's newest and oh so convenient Instagram dashboard feature.
It's important for brands to evaluate and gauge how their content is performing in order to make adjustments and reach the widest audience possible. Iconosquare is an app specifically for Instagram metrics that can be downloaded on its own or integrated into a Hootsuite dashboard alongside other social media metrics.
Iconosquare gives quick, solid raw numbers detailing many aspects of an account brands would want monitored. From the total amount of likes your account has received, to a breakdown of likes on individual photos, Iconosquare highlights the most popular and engaged with photos on any given account, specifically singling out an account's most popular photo during a given time. With graph metrics that show the average growth of likes over a period of time as well as average engagement metrics for one's account, Iconosquare can develop reports that clearly illustrate just how well a brand's Instagram strategy is performing.